PT Sari Munik Mandiri
Sari Munik Mandiri adalah perusahaan yang bergerak di bidang manufacture dengan Brand "Munik" yang berasal dari kata Mu – Mudah dan Nik – Nikmat ini berdiri sejak Tahun 1994 mempunyai 2 Divisi yaitu :
1. Divisi Bumbu
Kami adalah produsen Bumbu Masak dengan Merek "Munik" spesialis dalam Bumbu masakan asli Indonesia dan memiliki ragam Bumbu masak paling lengkap dan telah di pasarkan di Supermarket , dan online. Distribusi kami meliputi supermarket jaringan Nasional dan lokal seperti : Ranch Market, Foodhall, Farmers Market, Grand Lucky, Diaomond, Transmart, Carrefour, Hypermart, Superindo, Hero, Giant,Lottemart, Kemchiks, All Fresh , Total Buah dan lain lain.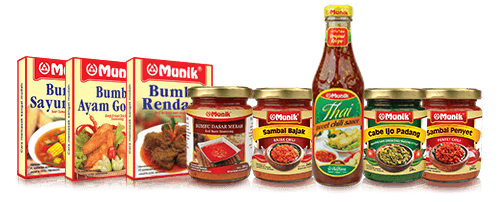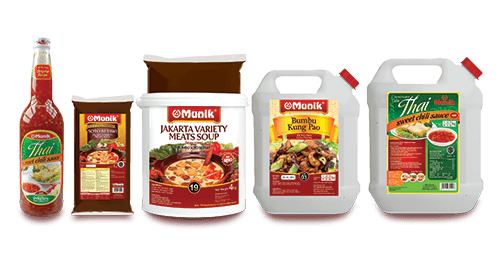 2. Divisi Horeca
Bumbu Munik mempunyai kemasan dalam berbagai ukuran untuk memenuhi permintaan pasar yang terus meningkat, bumbu kami telah didistribusikan di HO-RE-CA (Hotel, Restaurant, Cafe/Catering) yaitu di Hotel Indonesia Kempinski, Sheraton, The Ritz –Carlton, Shangri-la, Pullman,Le Meridien , Keraton, Hollyday In, Swiss Belhotel, Restoran: Bakmi Gm , D'Cost,Catering: Iss, JI Expo, ICE, Lion Boga, Sono Kembang, Purantara Catering serta rumah tangga baik di dalam Negeri ataupun ke Mancanegara.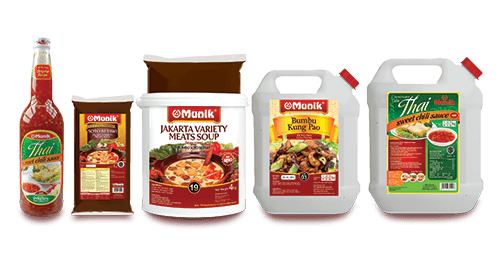 Distribusi Munik
Kami berkomitmen untuk memberikan kemudahan dan kepercayaan kepada konsumen yang gemar memasak baik bagi para pemula maupun ahli memasak. Dengan Menggunakan Bumbu Munik akan lebih menghemat waktu dan biaya serta menghasilkan masakan yang bercita rasa Lezat dan nikmat. Hasil dari pencapaian tersebut telah membuat Bumbu Munik menjadi bumbu yang dapat diterima dipasar Internasional. Sampai saat ini Bumbu Munik tersedia di berbagai negara seperti :
Australia, Austria, Canada, China, Denmark, Hongkong, Korea, Malaysia, Netherlands, New Zealand, Singapore, Taiwan, UK dan USA.
Sertifikat Kesehatan
– Badan Pengawas Obat dan Makanan Republik Indonesia (BPOM RI).
– Sertifikat halal dari Majelis Ulama Indonesia (MUI).
Persetujuan Internasional
Agar dapat melayani para pembeli internasional dengan lebih baik, bumbu-bumbu Munik telah mendapatkan persetujuan dari :
– F.D.A (Food and Drug Administration),  U.S.A.
– AQIS (Australian Quarantine and Inspection Service), Australia.
– A.V.A (Agri-Food and Veterinary Authority),  Singapore.
– Dubai Municipality, Public Health Dept, Government of Dubai, U.A.E.
Visi
Terus mengembangkan bumbu masak tradisional Indonesia yang mempunyai kualitas tinggi dan standar internasional serta sebagai pelopor bumbu masak Indonesia yang diakui dan dikenal oleh mancanegara.
Misi
Menyediakan bumbu masak tradisional Indonesia dalam upaya melestarikan budaya masakan tradisional Indonesia dengan kuliner yang beraneka ragam.